Puppy Envy
I've been enjoying three litters of puppies recently. None of them are with me here, and none of them are mine, but oh my, I can suffer from Puppy Envy with the best of them! The fact that these are three of my very favorite breeds in the world doesn't make any of this easier on me. And the fact that the breeders are three of my favorite people in the world is not a factor in my preference for these breeds. I grew up with Springers. I own and am passionate about the virtues of German Shepherds. And I will one day own a Whippet, a breed which delights my eye and my soul.

The first picture is of Stone, a nephew of sorts of my Crow and Hudson. Stone is a dilute blue, an "off" color in the breed which prefers its pigmentation as dark as possible, but a color that is frequently quite stunning. Stone wears his colors gorgeously, don't you think? I received this photograph of Stone on a snowy Sunday afternoon. I'd been spending the day knitting, reading, and reflecting, after shoveling snow and playing with Crow and Hudson. I was feeling much like Stone looks about the time the photo landed in my e-mail, and shortly thereafter, I logged off, pulled a blanket around me, and took a nap. Herewith, my inspiration: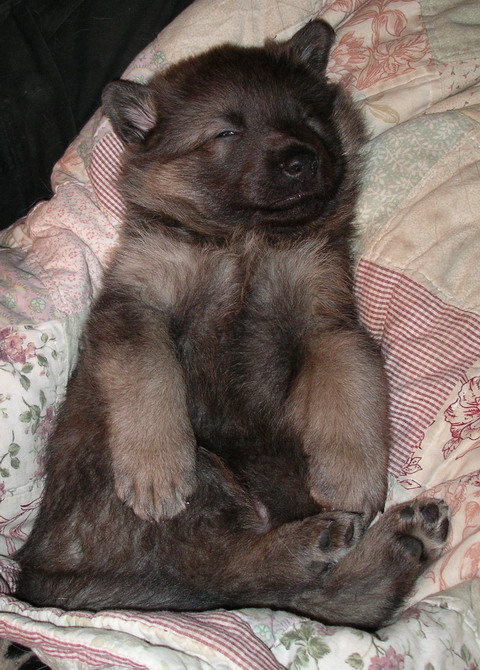 He's got that down to perfection, don't you think? Can you imagine how safe this guy must feel in his world?

My friend, Beth, out in Seattle, has the nicest Whippets I've seen. She regularly torments me with photographs of her litters, and in each and every litter, there is one puppy certain to reach out and remind me how much I want one of these exquisite companions. In the recent litter, Beth has produced my latest temptation in Tiercel, a beautiful black and white male. There's just something about this pup! I wish I had a fraction of his presence: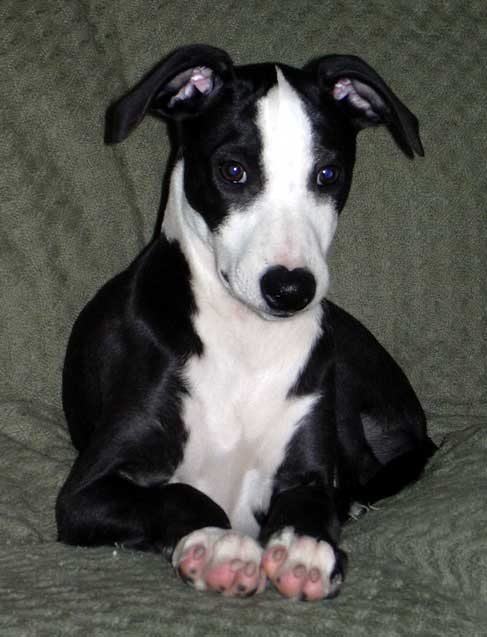 Isn't that some expression?

In each litter, Beth also has had a female whose softness of expression and beauty are, to me, hallmarks of the breed. Here is Lark to prove my point: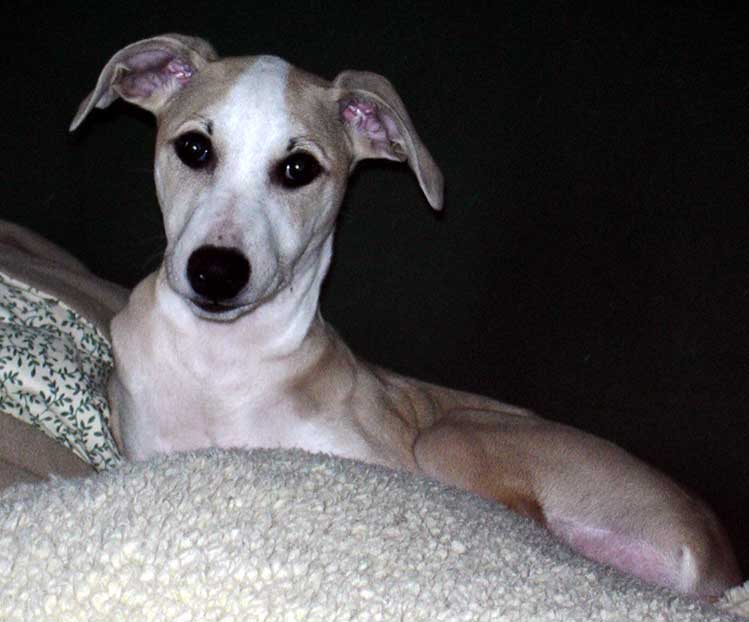 And last but not least, the breed that was first in my life. Here are Bridget's baby Springers, more reminiscent of those with which I grew up than any others out there (with the exception of those we saw when we went to England specifically to see Springers there in 1998.) I think I received this photograph first on Thanksgiving morning, though I could be wrong. At any rate, whatever meal Bridget was cooking (I wish I'd been there! She's one fine cook) these were her kitchen mates at the time.
How does she stand so much cuteness in one place at the same time?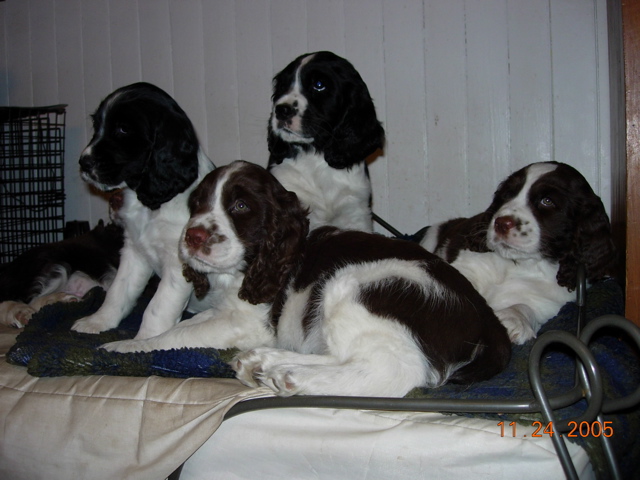 When asked to supply her favorite mugshot from the litter, Bridget sent me Melvin.


The Springers of my youth had freckles and curls and soulful expressions and liked nothing better than to lean against your leg. I know both the mom and dad of this litter. They're going to be fine examples of the best this breed has to offer if they turn out anything like them.

Three litters for me to drool over. Three fine breeds. And three friends of mine who exemplify what dog breeders should be - intelligent, responsible, committed women, who each have a vision of the breed they own, and each work diligently to always breed toward the betterment of that breed. And who each regularly torture me with Puppy Envy.